WINTER 2023
NEW PATIENT ACUPUNCTURE SPECIAL
Begin your self care journey with this special acupuncture treatment bundle!
ACUPUNCTURE SESSION:
This 90 min session is comprehensive and will address pain, digestion, sleep, emotional state and any other physical/mental challenges that you are dealing with. 
After intake, a customized Eastern Medicine treatment will be designed for you. Will leave you feeling relaxed and rejuvenated.
SPECIAL PACKAGE INCLUDES:

Free 30 min Dry Floatation Session
Free 60 min Sensory Deprivation Wet Float
You can schedule all your treatments on the same day or spread them out over multiple days.
Bundle Value: $320
SPECIAL BUNDLE PRICE: Only $149
Acupuncture
Acupuncture is part of a 2000 year old scientific healing technique that restores balance to the body. An all-natural and holistic treatment option, Chinese Medicine effectively treats hundreds of conditions, including pain, stress, digestion, and hormonal balance.
Acupuncture
"I feel energized after every session. Joel is very knowledgeable. I am inspired to take my self care to the next level."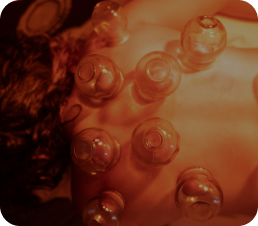 Cupping
Ancient, Simple, Powerful
Creates a wave of circulation that melts and repairs your muscles and joints. Cupping is a traditional, non-invasive treatment that enhances energy flow and unblocks pathways that often trigger inflammatory responses within the body.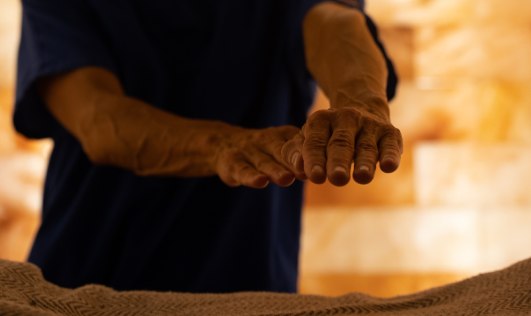 Reiki
Japanese Energy Healing
Reiki is a Japanese energy healing technique that targets stagnant energy in the body from physical injuries and emotional trauma. This works to release the blocks so that the energy can flow freely. Similar to acupuncture, reiki practitioners use their hands, not needles, to redirect energy.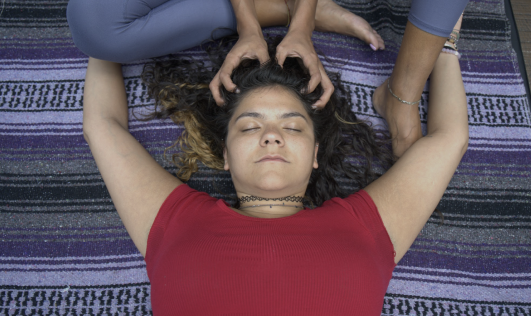 Thai Massage
One of our most popular massage options, Thai encompasses acupressure and yoga ­inspired stretching. Meditative and healing, sessions take place in our skylit atrium.
Techniques include walking on the back with compressing, circulating and cracking.
Thai Massage
"My practitioner was most wonderful, and I will continue to go back to her regularly! I left feeling energized, calm, and radiant. Highly recommend!"
I had a wonderful visit at FloLo. The staff was welcoming, the space was cozy and inviting and the practitioners are caring and well versed in their craft. I will definitely be returning for follow up visits and highly recommend giving FloLo a try if you're looking for some self care, relaxation or healing.
I have had crippling problems in my right shoulder for years that my practitioner expertly identified and helped eradicate. The severity of my injury will require multiple sessions, but even after just one I felt so much lasting relief. She was caring, funny, thorough, and explained every step of the process with brevity and clarity.
Frequently Asked Questions
Massages are offered in one of our massage treatment rooms, our halotherapy salt cave or in our rooftop atrium. Choose from 60, 90 or 120 Minute sessions.
And just as hitting the gym regularly stimulates consistent release of endorphins, so does floating. Effectively, regular float sessions train your "endorphin muscle" and rewire your brain to more regularly secrete endorphins, resulting a more consistent state of happiness, relaxation, and sustained positive energy levels. And it's far easier than 90 minutes on the elliptical machine!
Drink lots of water before and after, dress comfortably, communicate any special needs or concerns to your practitioner beforehand, and relax the best you can!
Massage should be a part of everyone's self-care routine. While a massage once a week will provide you with the flexibility to handle whatever stressors are thrown at you, a massage once a month is perfectly adequate.
Fever: Anytime you have a fever, whether from a cold, the flu or some other infection, you should not get a massage. Massage increases circulation that may in turn help the infection increase the severity of the fever and the infection.

Contagious Diseases: If you have a contagious disease you are putting your therapist and even your therapist's other clients at risk of getting it. Please be considerate to your therapist and cancel your massage if you come down with a contagious condition.

Blood Clots: Massage can loosen blood clots. This could be dangerous because the clot could migrate to the brain, lungs or heart. If you are aware of any blood clots, consult your doctor before massage to make sure that it will not be effected by massage therapy.

Kidney Conditions or Liver Conditions Massage can put increased strain on both the liver and kidney if they are not functioning normally. This occurs because massage increases blood flow, increasing the movement of waste through the body. If you are experiencing a health problem with either your kidney or liver it is likely that massage will not be appropriate for you. Talk to a health care professional to see if massage will aggravate any kidney or liver condition..

Uncontrolled Hypertension: Massage increases blood flow. If you have high blood pressure that is not under control, the increased blood flow that is a result of massage therapy may cause problems.ed.