Infrared Sauna
Sweat out toxins, heal your heart and rejuvenate your skin
While traditional saunas heat up the air around you, infrared saunas use infrared heaters to warm your body directly. This allows heat to penetrate to the core of your body, generating an intense perspiration at a lower temperature.
Our private cozy sauna comfortably seats two and is equipped with its own private shower.
Infrared Sauna
Benefits of Infrared Sauna
Regulate chemical sensitivity • Improve skin health • Improve circulation • Slow down skin aging • Alleviate pain • Combat brain fog • Treat chronic illness • Detox heavy metals
Just 20 minutes in our zero EMF, infrared sauna will have you sweating the toxins out, giving your skin a gorgeous glow while combating mood disorders and chronic pain.
For those who can handle the heat, a 60 minute session will burn 600 calories.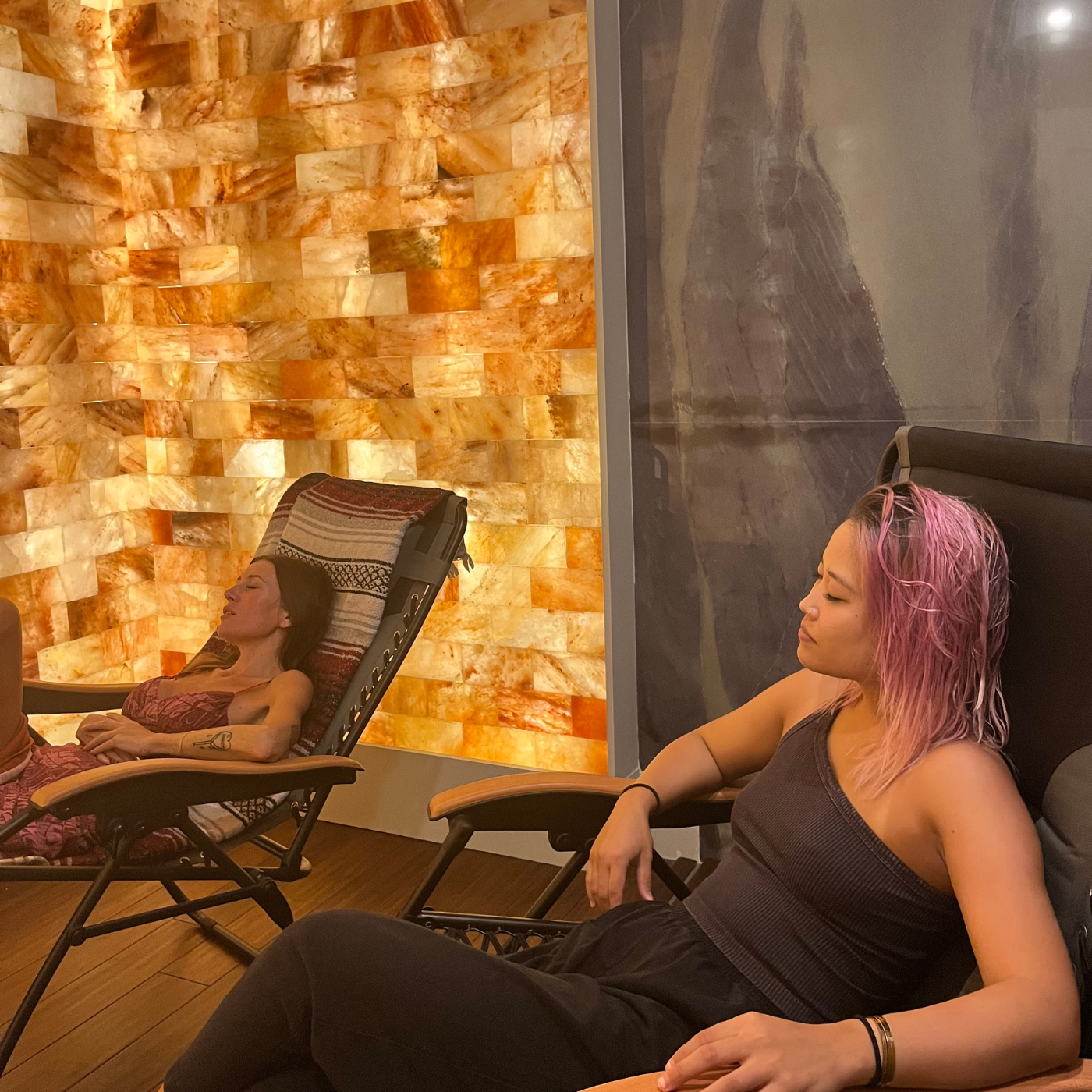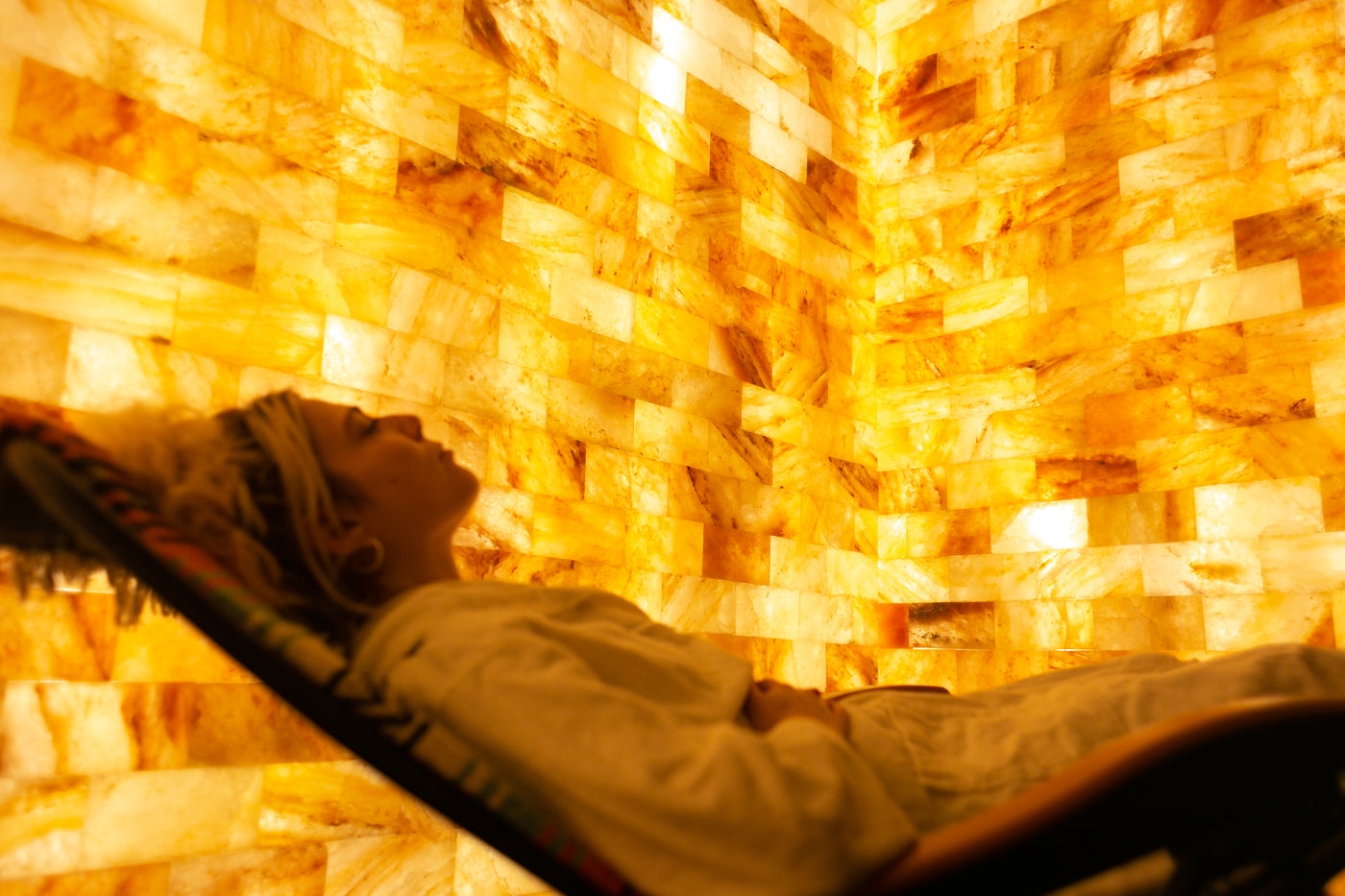 HaloTherapy Salt Cave
Scientifically proven to purify your lungs and skin.
The FloLo Halotherapy Salt Cave is a 150 square foot oasis made from pink Himalayan salt bricks. Our industrial grade halogenerator produces a fine mist of magnesium epsom salt.
Over 100 years of scientific research has proven that spending time in salt air actually cleanses and purifies your entire respiratory system. A great way to detox after COVID.
HaloTherapy Salt Cave
Benefits of HaloTherapy
Reduce inflammation
Improve lung capacity
Treat post Covid symptoms
Improve skin health
Reduce stress
Treat skin conditions
Frequently Asked Questions
Make sure to drink lots of water before and after each session. Avoid consuming alcohol prior to entering the steam room, cold plunge or infrared sauna.
EMFs are invisible energy emissions that come from any object that uses electricity. Most common electrical objects give off such low levels of EMF that they pose no risk to humans. Our infrared sauna has been specially designed to have ZERO EMF radiation.
Whatever you like! Feel free to bring a bathing suit for the sauna or steam room. All of our healing rooms are private, each with its own private shower.
nfrared sauna use is not recommended for people who are pregnant, children under 12, those with hemophila, fever, insensitivity to heat, and those under the influence of alcohol.
When you breathe in salt vapors in a salt therapy room, molecules enter the airways of your lungs to break down and release negative ions. This, in turn, clears mucous and boosts your immunity. Meanwhile, airborne salt reacts with skin to resolve a variety of skin conditions.
Halotherapy has been proven to alleviate symptoms of allergies, asthma, bronchitis, COPD, cystic fibrosis, emphysema, frequent colds, hay fever, rhinitis, sinusitis, smokers' cough, damage from smoking, and upper respiratory disorders.
Salt therapy is very safe and has no known side effects. If you experience a tickle in your throat after a session, rest easy! This is just the body's natural way of detoxifying from your body.
Those with pulmonary insufficiency, severe disease of other organs (unless you have clearance from your physician) and children under 12 months should avoid halotherapy.