Detoxify. Sweat.
For Two People.
Sweat Out Toxins Together.
Experience the benefits of a rejuvenating infrared sauna session for two at FloLo Holistic. Unlike traditional saunas that heat the air around you, our infrared sauna uses infrared heaters to directly warm your body, allowing heat to penetrate your core and generate an intense perspiration at a lower temperature. For those seeking an even more intense experience, a 60-minute session can burn up to 600 calories.
In just 20 minutes, you and your partner can sweat out toxins and achieve a radiant skin glow, while combating mood disorders and chronic pain. Our private, cozy, zero EMF infrared sauna comfortably seats two and comes with its own private shower.
"Ever since we started using the infrared sauna, we've noticed we're not getting colds as often. It's like it's boosting our immune systems."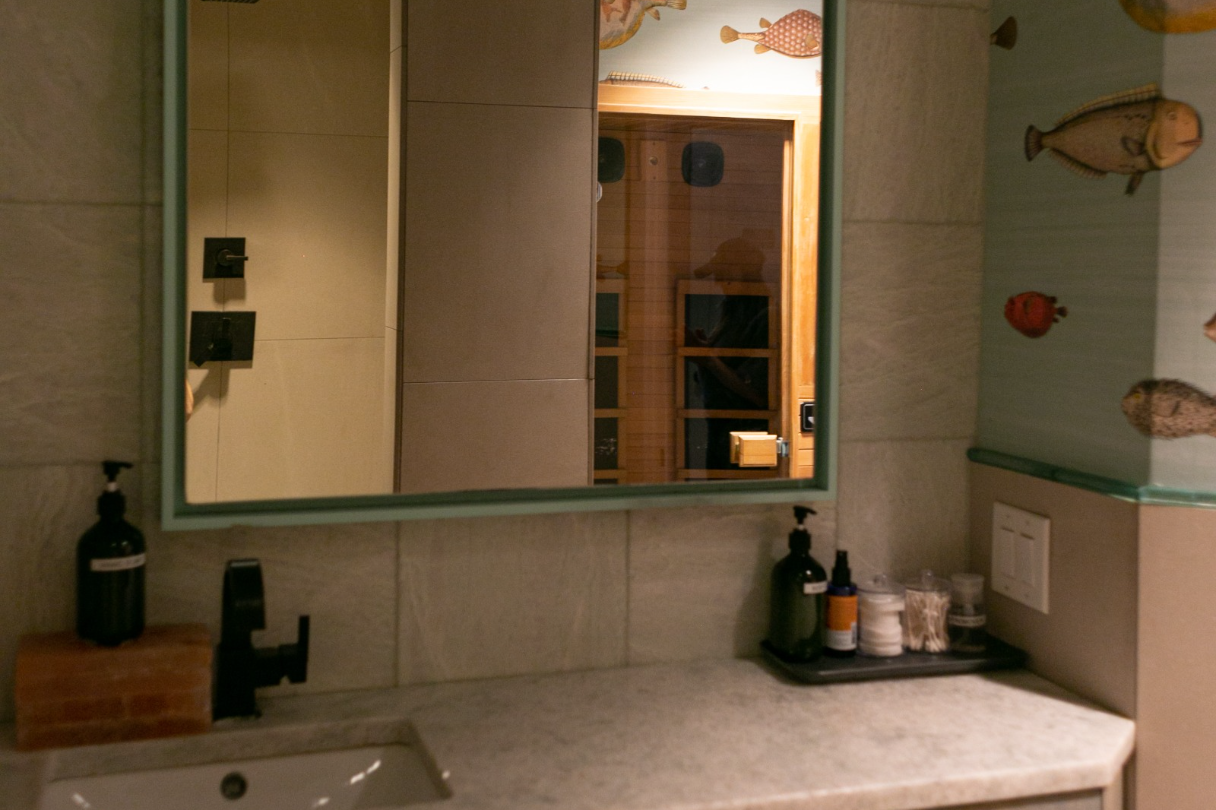 Personal Plunge Room and Lounge
Your own space to plunge and relax.
Temperature Regulated
Cutting edge cooling tech keeps the temperature constant at 50°.
Private Shower and Bathroom
Our subterranean bathouse is filled with everything you need.
Cutting Edge Filtration
24/7 Sterilizing and Sanitizing. Crystal Clear Water.
Benefits of Infrared Sauna
Experience profound toxin elimination as infrared heat deeply penetrates tissues, promoting intense, healthful sweating and deep cleansing at a cellular level.
Enhance skin health by stimulating collagen production, reducing wrinkles, and imparting a natural glow.
Reduce Pain and Inflammation
Target chronic pain and inflammation effectively with infrared heat, offering relief to sore muscles and stiff joints
Enhance blood flow and oxygenation throughout the body, supporting better overall health and vitality due to the expansive heat effect of infrared therapy.
Aid in weight loss efforts as the body works to cool itself, leading to calorie burn and supporting a healthier metabolism.
Increased production of white blood cells and improved overall body resilience.
Deeper, more restful sleep by helping to regulate the body's internal clock.
Reduce Stress and Anxiety
Significantly lowers stress and anxiety levels, promoting relaxation through gentle, therapeutic heat.
Good for my joints
Noticed less stiffness and pain
Cold remedy
Ever since we started using IR sauna, we've noticed we're not getting colds as often. It's boosting our immune systems.
Muscle relief
Post-workout, sauna was just what we needed
Good sauna
Cute room, clean and nice amenities.
#FloLoHolistic On Instagram