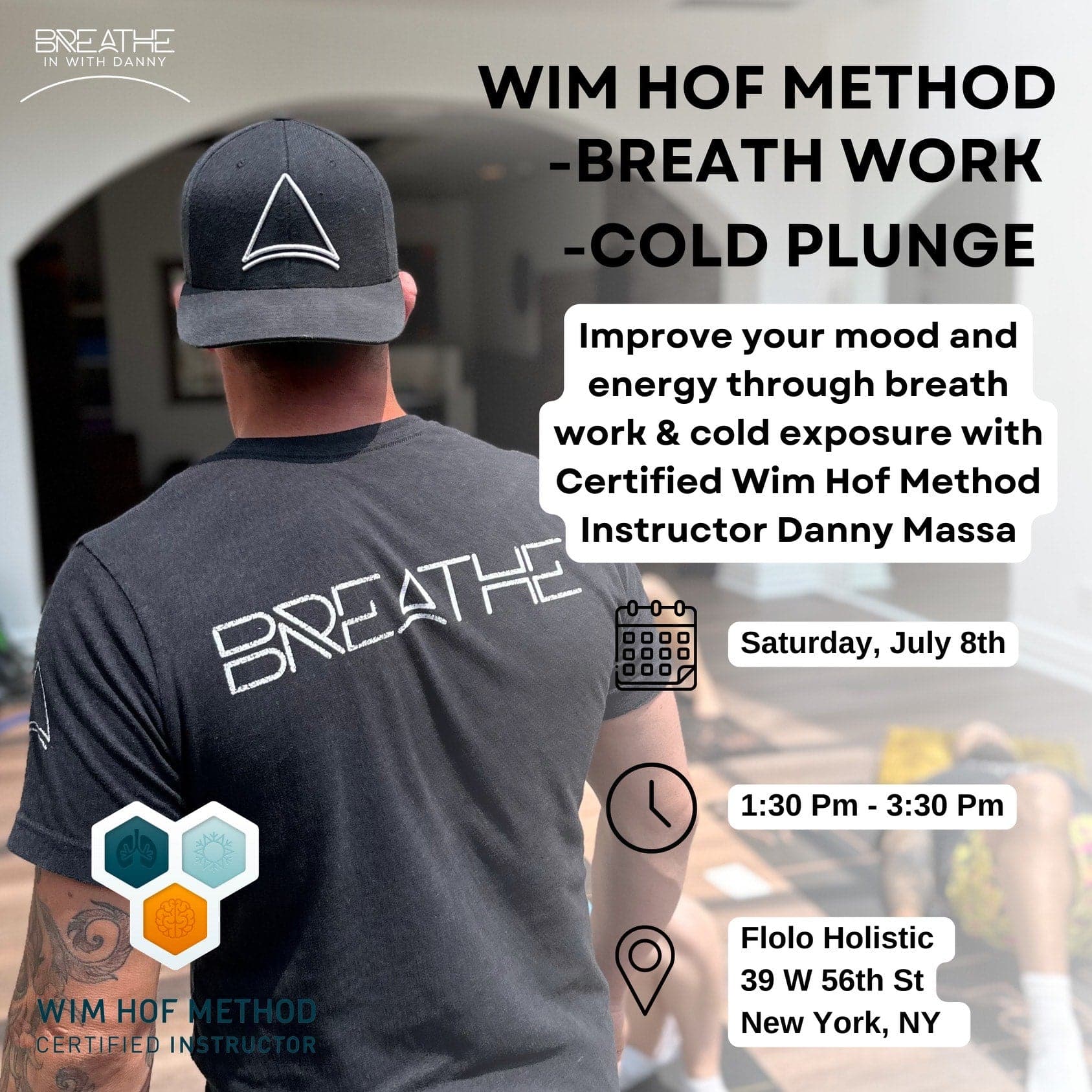 Breathe In With Danny - A Wim Hof Event
July 08, 2023
1:30 pm - 3:30 pm
Danny will guide you to harness the power of the breath allowing you to control your stress response, reduce anxiety and strengthen your immune system. He will also teach you to utilize the cold, in the FloLo Holistic cold plunge, to tap into the dormant powers of our ancestors, changing your biochemistry as you see fit and drastically reducing inflammation, the root of most diseases that cripple human beings.
"This person makes me uncomfortable, this feeling makes me anxious, I always feel tired." These are all normal human conditions but we are more than equipped to handle these dilemmas with our mindset and connectivity. In this Wim Hof Method Workshop I will not teach you anything but yet assist you in relearning the powers many of us have left dormant. After this class anxiety will just be a reminder to you to connect to your breath and you will no longer be a product of your environment, your environment will be a product of you.
Your breath is a tool, just like a hammer, it can build someone beautiful or you can smash yourself in the hand with it; it depends how good you are with the tool. After this workshop, you will be a builder of beauty and the breath will be your tool. Breathing is the only mechanism that controls stress response; it is voluntary and involuntary; this is not a coincidence; it's innovation. You will see this no greater than when we use our breathing to control our response to the cold in an Ice Bath, transforming an incredibly difficult endeavor into a restorative and tranquil experience. This experience will increase our dopamine, the motivating hormone by 250% and noradrenaline, a powerful anti-inflammatory by 530%. The cold plunge is totally optional and everyone is not only welcomed but encouraged to participate in the workshop even if only interested in breath-work.
The Wim Hof Method has drastically improved my life, allowing me to slow down and truly smell the roses and it is my honor to share it with you. Please bring an open mind, an open heart and openness for connection.
WHAT TO BRING
Swimwear

Towel

Blanket(optional)

Water Bottle
About Danny Massa
ABOUT DANNY MASSA
Danny Massa is a 32-year-old man who was born and raised in the Bronx. Like so many of us, as an insecure adolescent, Danny was picked on for his weight. And so at the age of 12, he turned to boxing, martial arts, and physical fitness to build his confidence. 
Shortly after, Danny began competing in boxing matches and mixed martial arts competitions and holds a record of 10 wins and 4 losses. His father, Captain Daniel J.  Massa, served New York City as a Firefighter for 25 years and was part of the rescue and recovery effort at the World Trade Center in  2001.  His father's words, "Always try to leave everywhere you've been a little nicer than the way you found it", inspired Danny to follow in his footsteps and become a New York City Firefighter. Danny is also a member of the FDNY Boxing Bravest (with a 4-0 record) and the FDNY Grappling Team, where he trains and prepares future firefighters.
Whether he's battling in the ring, grappling in the cage, carrying patients down countless flights of stairs during emergency medical calls or extinguishing blazing infernos, one truth remains–breath matters. In short, if you can breathe, everything is okay. If you can't, then nothing else matters.
This principle has captivated Danny so much that it inspired him to become a Certified Breath Coach under the tutelage of Dr. Belisa Vranich, a world renowned clinical psychologist who has coached everyone from Special Ops Military to professional athletes. Danny, is a certified Wim Hof instructor and Group Fitness Instructor. He is also passionate about the benefits of cold exposure. Like his father, Danny believes in the power of service and leaving this world just a little bit nicer than how he found it.